Description
PINO XPERT + therapy couch – ( MADE IN GERMANY)
The electrical therapy couch PINO XPERT + impresses with its first-class standard equipment and a newly revised, innovative design. The slim frame in high-quality silver & dark gray two-tone look and the tapered bed surface enable ergonomic work close to the patient: inside. In addition, the scissor frame makes unsightly cables disappear and runs without offset. Equipped with an integrated turbo motor as standard, the: the patient: is driven safely and quietly to the optimal treatment height. Thanks to the integrated, central wheel axle lifting system, the bed can be moved effortlessly. Double felled seams on the upholstery underline the modern look of the lounger and ensure long durability. The revised upholstery foam enables a better pressure distribution during the massage and offers a pleasant lying comfort. You can freely choose from 14 upholstery colors, design your dream lounger precisely according to your requirements and it will be individually manufactured in our production facility. Highest reliability, ideally suited for use in physiotherapy or in the spa.
Advantages for practice:
Slim design for ergonomic working
Modern look thanks to hidden cables and double upholstery seams
Integrated German quality turbo engine
Equipment & color can be configured individually
Product details:
Medical device
Quality Made in Germany – individual production in our own production
Please note that this is a product that is intended for professional use only.
Dimensions (with standard equipment): L x W: 200 x 65 cm
Weight (with standard equipment):
Approx. 120 kg
– 3-part  headboard
Shape-optimized, three-piece headboard
With an integrated, oval nose slot for treatments in the prone position
Comfortable, ergonomic storage thanks to additional armrests
Infinitely and smoothly adjustable via gas pressure spring from -90° to +35°
Robust, double felled seams
Made in Germany
Width: 65cm
Please note that the multi-part headboards retain their width of 65 cm with a bed width of 80 cm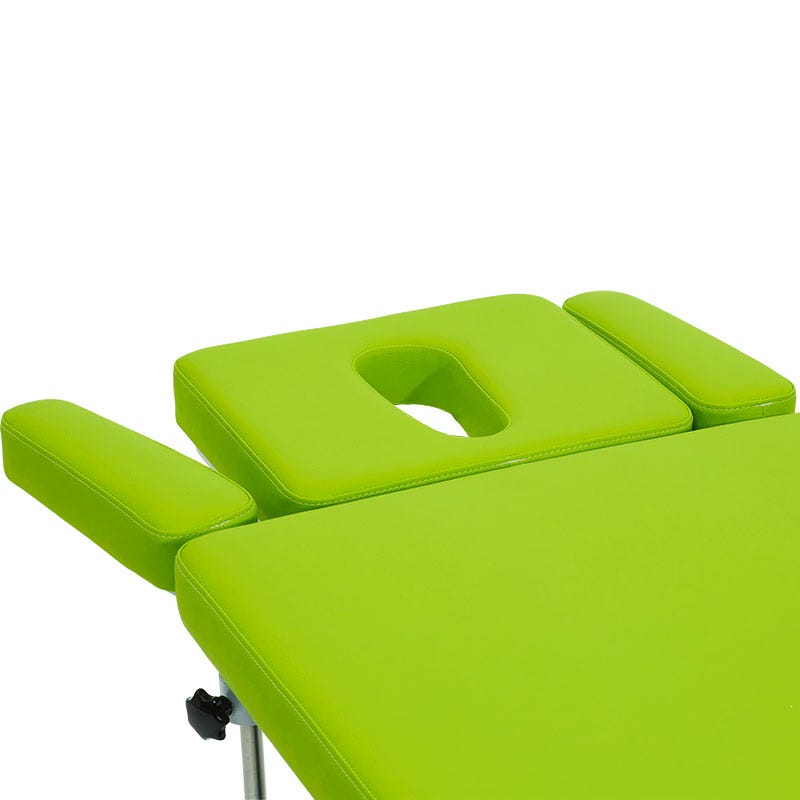 – All-round switching
Practical all-round switch for convenient height adjustment from any position
Consists of two chrome-plated brackets that are attached close to the frame of the therapy table
Allows the stool to roll up close
Ergonomically optimized for even easier operation even when seated
More safety in everyday practice thanks to the Double Touch Safety System: the electrical height adjustment is only activated by pressing the rotary switch twice
By pressing the bar twice, the bed is raised
By pressing the bar upwards twice, the bed is lowered
Please note: The all-round switch cannot be retrofitted and must be ordered together with the therapy bed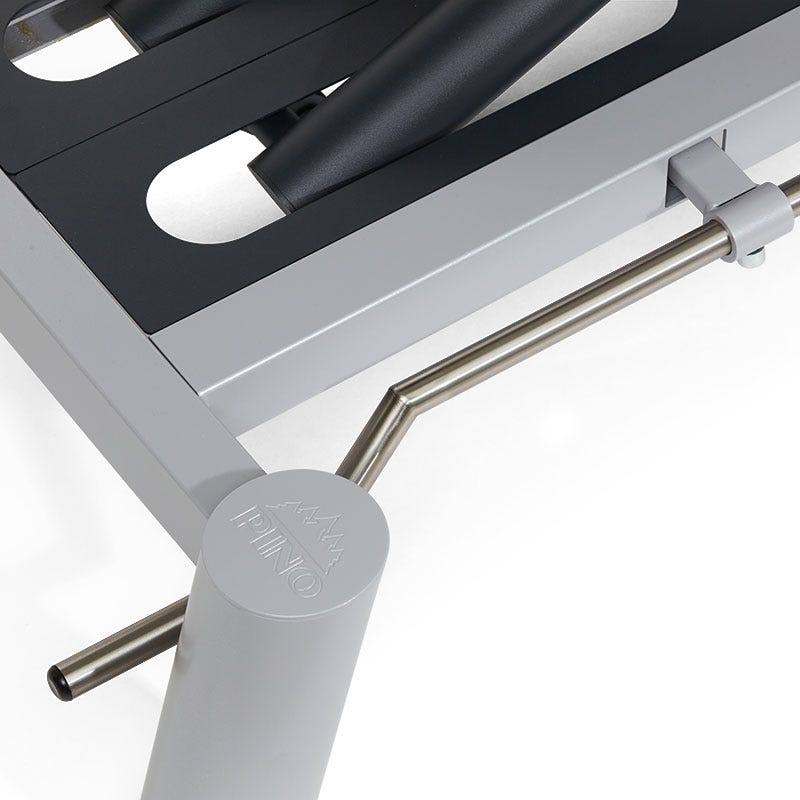 Product details motor & height adjustment:
Standard control with electrical height adjustment over 48–92 cm in just 16 seconds.
Control via low-maintenance German quality turbo engine
Maximum safety with the standard "Double Touch Safety System"
Integrated, invisible motor
2 year guarantee on the drive
Product details upholstery & lying surface:
Hand-sewn premium upholstery, 7 cm thick, with an antimicrobial synthetic leather cover
Better pressure distribution thanks to revised upholstery foam
Robust, double felled seams
Shape-optimized 1-part body part with separate head part
Shape-optimized, one-piece head section with nose slot, continuously and smoothly adjustable from -90 ° to + 30 ° using a gas spring
Ergonomic work on the patient: inside thanks to the tapered foot area
Large selection of fresh upholstery colors to match practice stools and storage material
Product details frame & frame:
Two-tone frame in silver and dark gray
Tidy look with hidden cables
Loadable up to 200 kg
Integrated, central wheel axle lifting system
Height adjustment without moving the upholstered surface to the left or right thanks to the scissor frame without lateral offset
Maintenance-free dry sliding bearings
High durability thanks to powder coating
5 year guarantee on the frame