Description

An Industry Standard for Professionals since 1966, the original Jeanie Rub Massager® delivers invigorating 1100 – 4600 rpm massaging action with a twist of the switch. The orbital action provides a softer and deeper massage than percussion type massagers. Lower speeds deliver a soothing massage while faster speeds are more invigorating.
Cast aluminum construction with black finish looks great and resists abrasions, ensuring years of use. All Jeanie Rub massagers are built in the USA to ANSI Standards and are CSA certified, ensuring they have been evaluated to meet or exceed consumer safety standards. Pad measures 4 x 9 (10cm x 23cm). Jeanie Rub accessories sold separately.
Made in the USA
One Year Warranty
120V AC Nominal Power Source Required
12 foot grounded power cord
Instant massage with a twist of the switch
Built to ANSI standards and CSA certified
Looking for the Morfam Master Massager? You're in the right place; the Jeanie Rub replaced the Morfam Massager.
Specifications
Materials:
Cast Aluminum construction resists abrasions
Vinyl Pad
Product Size:
Massager- 10.25″ x 4.625″ x 8.25″
Pad measures- 4″ x 9″
Product Weight:
Power:
Requires 120V AC Nominal Power Source
12-foot power cord
Product Origin: Made in the USA of imported parts
1100-4600 rpm orbital massaging action
Built to ANSI standards; CSA certified
Instructions for Use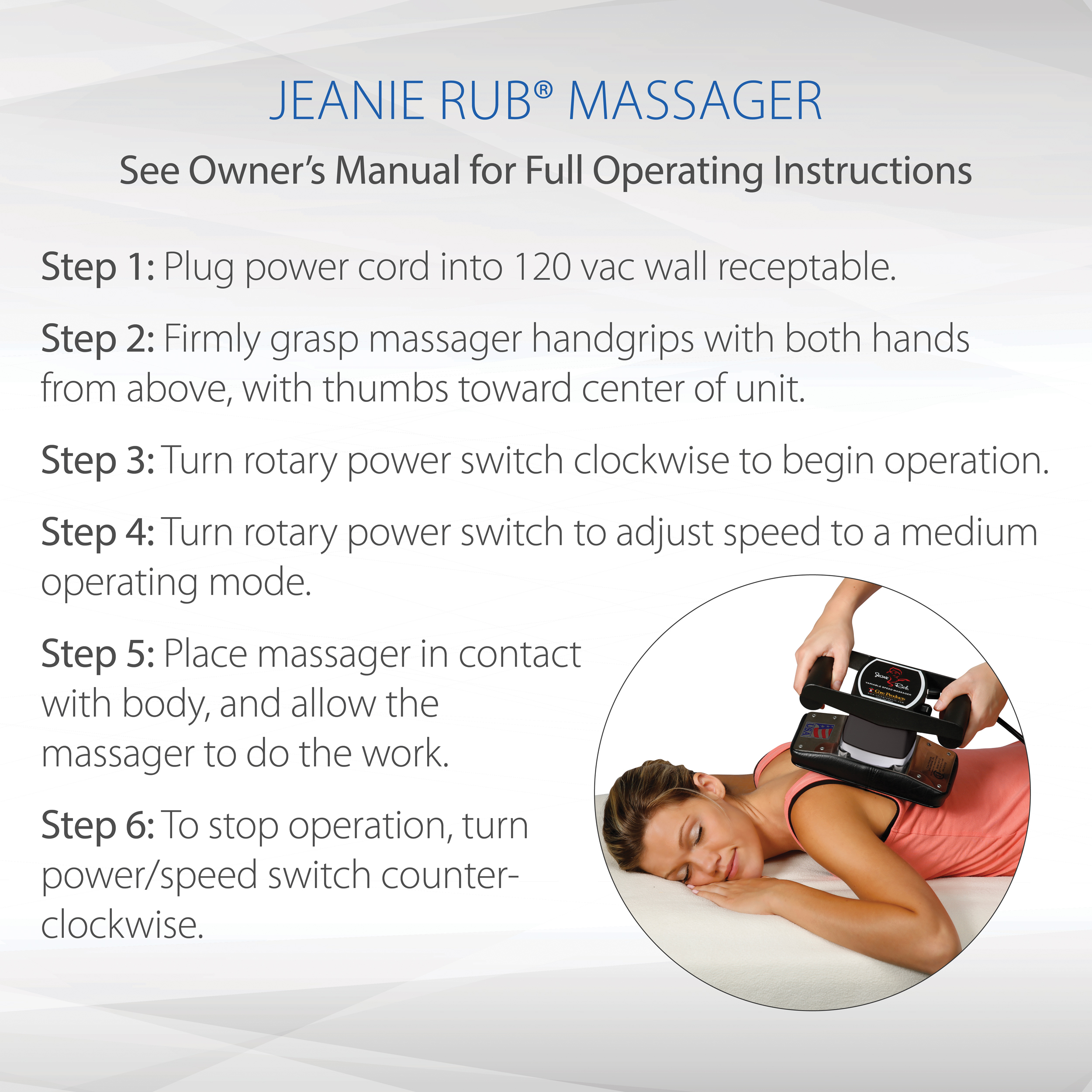 Care and Maintenance
To keep your massager working and looking its best, follow these simple steps.
Unplug your massager from receptable before cleaning.
Wipe the vinyl pad of the massager with a damp cloth and mild detergent to clean. Do not use products containing alcohol, as this may cause the vinyl to prematurely crack or erode.
When cleaning around power switch or ventilation, use a dry cloth only. Never use a damp cloth to clean these areas.
This product is maintenance free. No periodic lubrication or servicing is required.
Allow adequate time for massager to cool down before storing.
When your massager is not in use for extended periods of time, store unit in area free of dust and moisture.