Description
CanDo resistive band exerciser roll is packaged in a dispenser box. Simply unroll desired length of exercise band from dispenser box and cut with scissors. CanDo high quality synthetic latex free exercise band has been used for physical therapy and athletic training by clinics, fitness centers and individuals since 1987. It has become a well known staple of many physical therapy programs.  The latex free formula has been specially created to mimic the stretch characteristics of latex band. CanDo exercise band is an economic solution for upper and lower body exercise. Lightweight, compact and portable. Durable. Effective when used alone, or with handles and anchors. Color-coded according to the exercise band's resistance. CanDo is licensed to use the Thera-Band color sequence so resistance level is easily identified. Available in 8 levels of resistance for progressive exercise. 50-yard rolls have a core that fits most dispenser racks. Levels range in order of strength from least to greatest resistance: tan, yellow, red, green, blue, black, silver, gold. Uniform width – each band is 5″ wide. 
Features
Used in clinics for rehabilitation, conditioning, and training
Safer, durable, snap resistant design
More economical
Lightweight, compact and portable
Uniform width – each band is 5″ wide
50-yard rolls have a core that fits most dispenser racks
Available in 5 strengths to allow for progressive exercise – Yellow, Red, Green, Blue, Black
Uses TheraBand® color sequence
About CanDo®
CanDo®  exercise products have been used by physical therapists, athletic trainers and the general public since the 1980s. Their product line includes bands and tubes for strength and rehabilitation, balance and coordination, and flexibility.
About the CanDo® Bands
CanDo® offers a wide range of choice with three different product lines: their regular latex CanDo® bands and tubes, their latex-free bands and tubes called Sup-R-Band®, and their economical bands and tubes called Val-u-Band®.
CanDo® and Sup-R-Band® bands and tubes utilize the TheraBand® resistance progression colours which makes switch to these more economical options easier for you and your patients.
And if matching the TheraBand® colour sequence is not exactly a priority for you, you can switch to the Val-u-Band® for even more value. The Val-u-Band® line is our lowest cost tubes and bands with the same high quality of CanDo®. It has its own progressive colour system called Berry ColorsTM that saves you money!
The CanDo® line of products offers excellent performance and great value. Vitality Depot offers CanDo® bands in individual size, 6 yards, and 50 yards, Sup-R-Band® bands in individual size, and 50 yards, and Val-u-Band® bands in individual size, and 50 yards.
Each band and tube comes with consumer friendly retail packaging.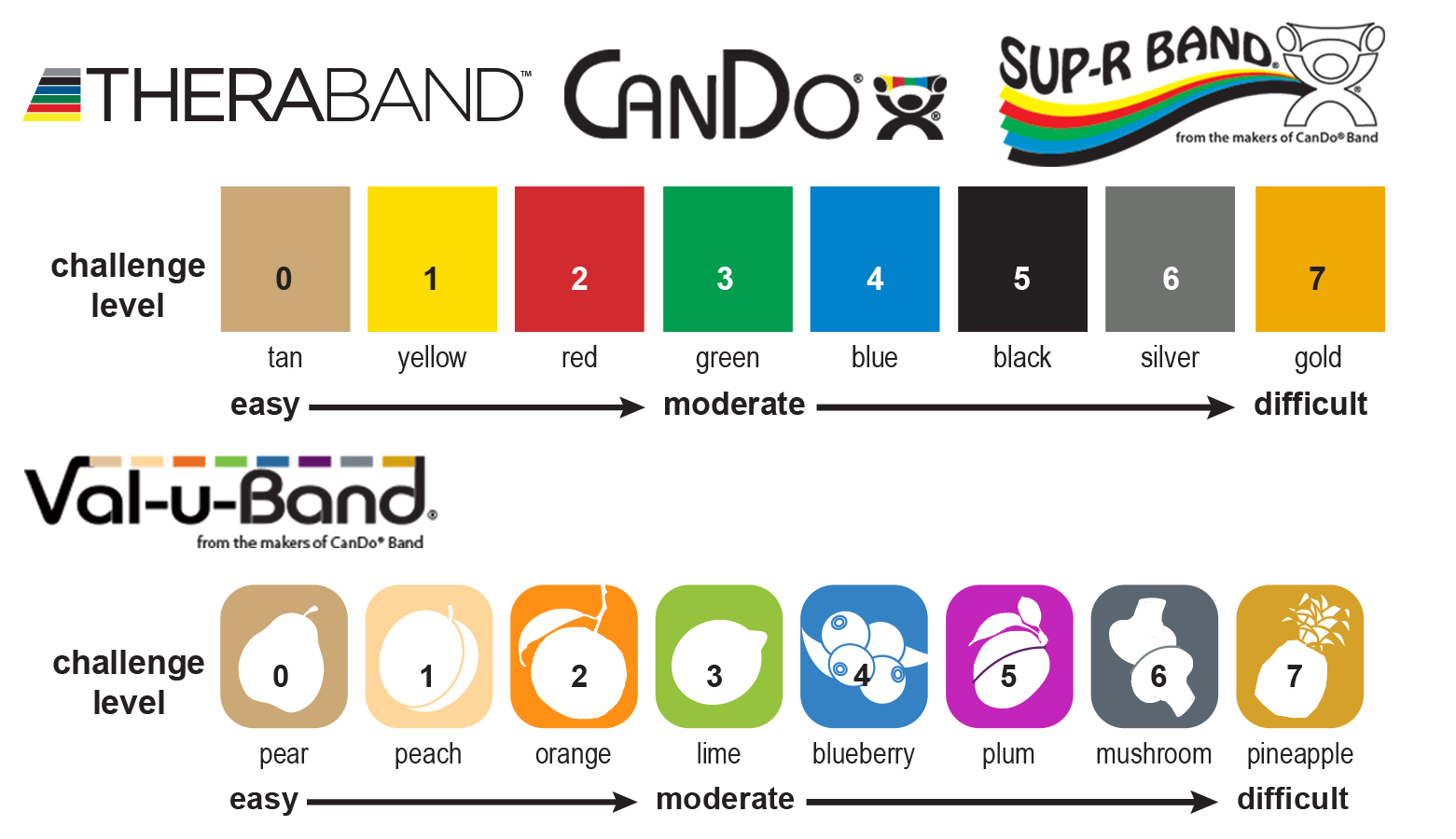 | | | | | |
| --- | --- | --- | --- | --- |
| | TheraBand®Colours | Contains Latex | Instructions Included | Features |
| | YES | YES | Sometimes | The original, trusted brand. |
| | YES | YES | YES | Safer, snap resistant design. TheraBand® colours. More economical. |
| | YES | | YES | Performs just like latex. TheraBand® colours at economical price. No need for second inventory. |
| | NO | YES | YES | Lowest price. Same quality. Berry colours save you money! |